Basic product fields
If multiple languages are used in the store​​, all basic fields of the product can be translated.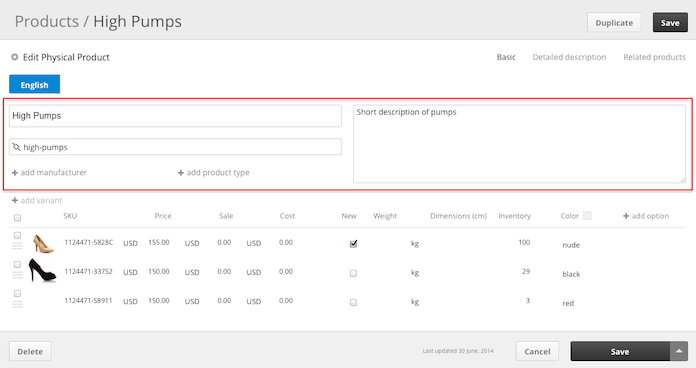 Product Name
In the Product Name, include 3 to 5 of the most important keywords. For example, "Men's brown leather shoes". Creating the correct name of the product will position you on higher Google rankings.
Title of the Product Link
"Title of the Product Link" will appear in the website address. For example, www.yourstore.com/brown-men-leather-shoes. Only the highlighted part of the link must be entered In this field. For example: brown-men-leather-shoes. You must only use lowercase letters and numbers. Instead of a space use a dash "-".
Product Manufacturer
Manufacturer of the product shows in the online store.
Product Type
Product Type helps to group products in the database. For example, shoes, shirts, dresses.
Product Basic Description
Basic Description of Product appears in your online store product description, and it is used also Google Search. Include in this description important information about the product, which shall not exceed 130 characters.