To add .pdf, .doc, .xls and other formatted files (file must be no larger than 5Mb):
1. Log in to the "Text Block Editor " where you want to attach a file.
2. Type the text clicking on which file you want to open, a .pdf file (for example, "Download. pdf"), mark it and click on the file upload icon.

3. In the popup window click on "Upload file".

4. Click on Choose file and choose the file from your computer.
5. Click on Upload, to upload the file.
6. Open the section View list.

7. Click on the "gear" icon near file first and then click on Download.
8. You will see the link to the file. Copy the link from the browser.
9. Return to the text editor of the block. Highlight text with your mouse and click the link connection icon.

10. Copy the link in the field "Link URL" and click Insert.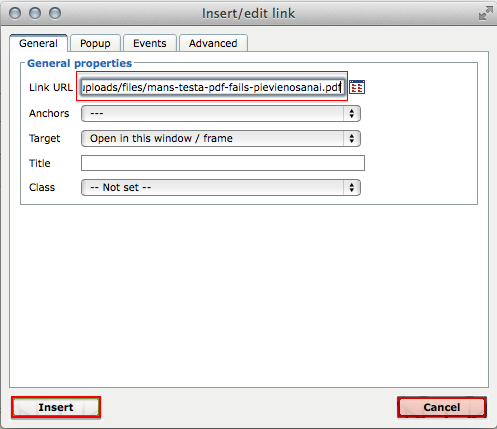 11. Click Save.
File is attached.